Surroundings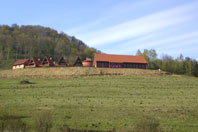 Stebnícka Huta is situated in a splendid area of Nízke Beskydy mountain range, part Busov, 500 m above the sea level. The climate and configurations of relief division or stunning sceneries of the village cadastre represent conditions more than suitable for spending leisure time in the countryside all year long.

There is a foot frontier crossing to Poland to Blechnarka village in the immediate vicinity of Slnečný majer and approximately 6 km from this spot Wysova , a Polish spa is located.

There is a ski resort established in the village. Ski slopes are suitable for beginners as well as for those advanced.

From Suchý vrch peak Regetovka ski resort can be reached. There is famous Bardejovské Spa located in Bardejov, in which various treatment methods of a complex spa therapy are applied.